Fall Foiliage Hiking Trip (20 Oct 2001)
Hiking to Anthony's Nose
As part of my annual activities, I organize a once a year hiking trip to the Hudson River Valley in the peak of fall foliage change. This year we had the best weather and the crispest colors to match.
Getting to Grand Central Station, I was first overwhelmed by the sheer number of hikers there. We were already taking the second of two possible trains out to the hiking areas, so I guess we can consider ourselves the recreational hiker (I assume the diehards left at 8). It was hard to convene and find everyone but we finally managed it and got together all 9 people. Somehow I had missed Ani and her party at the 116th gates, but we were rejoined at GCS.
As per the usual, we were heading to Anthony's Nose. After a quick grouping it was already time to board the train. Getting on the car and finding seats took a bit of time but we eventually managed, although Stephanie found herself alone for a while in a totally separate compartment. At the end things were fine, and we de-boarded the train with about 10 other hikers (who we would see atop the Nose later in the day).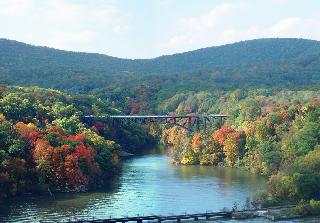 ---
knmnyn@knmnyn.com | | All pictures and text are © copyrighted 1996-2001 by Min-Yen Kan | Generated on: Tue Jan 1 22:56:03 2002